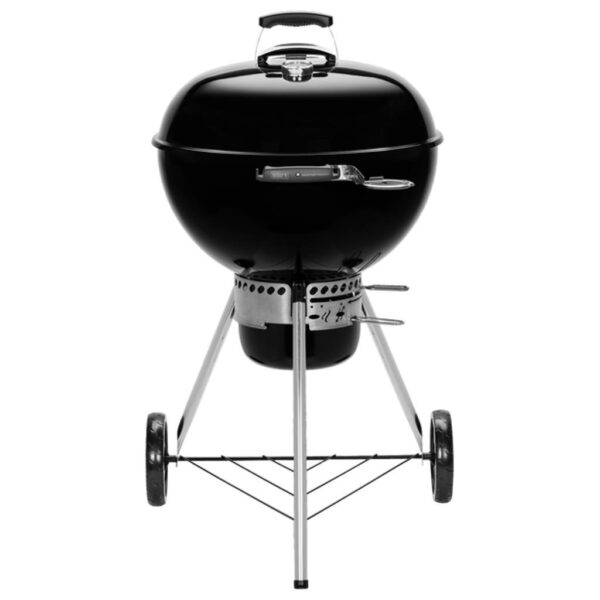 Weber Master Touch GBS 57 Cm Charcoal Grill Black E-5750
Weber Master-Touch GBS 57 cm E-5750 Black charcoal BBQ. The charcoal barbecue ritual meets the innovative features, convenience and overall factor of the Master-Touch charcoal barbecue.
The Gourmet Barbecue System cooking grills allow you to take charcoal barbecue to a whole new level of culinary adventure and fun, where you can cook breakfast, cook chili or soups and prepare a perfectly cooked pizza outside.
Weber designs their barbecues so you don't have to worry about flare-ups, hot and cold spots, or burnt food. You can expect great performance, control and results every time.
The One Touch Cleaning System with deep ash retention ensures hassle-free disposal of used ash, while integrated tool hooks ensure you always have your barbecue tools at hand.
Invented by Weber's founder and loved worldwide, the conical barbecue remains the barbecue made for everyone. Bowl and Lid: Each Weber charcoal barbecue has a porcelain-enamelled steel pot and lid. This is important because it will never peel or flake off.
The reflective surface provides convection cooking, so the heat spreads around the food like an indoor oven, resulting in even cooking results.
Vents and Latches: Air is the biggest factor in a charcoal barbecue. The more air you let into the barbecue, the hotter the interior temperature will be until the fuel is maxed out. During cooking, you can control the internal barbecue temperature by easily adjusting the lid and bowl sliders. To ensure a high internal barbecue temperature for direct method cooking, make sure the chamber and lid openings are fully open. If your goal is to cook indirectly at lower temperatures, you can close the lid and the chamber sliders halfway. Closing the latches completely will cut off the oxygen flow and eventually extinguish the coals.
Cooking Grate: Made of heavy-duty coated steel, the cooking grate provides ample space to cook your favorite dishes.
Charcoal Grill: The charcoal grill has what it takes to withstand the heat of any charcoal fire. Made of heavy-duty steel, this durable grill won't bend or burn.
In addition, it gives you enough space for direct or indirect cooking and gives you the flexibility to cook the way you want.
One-Touch Cleaning System: One-Touch cleaning system eliminates the hassle of cleaning. As you move the handle back and forth, the three blades in the hopper carry the ash from the bottom of the brazier to the ash catcher. The same vents act as a chamber damper to help bring the oxygen into the fire or to allow you to put out the fire easily.
Main Features:
Porcelain enamel bowl and lid.
The durable, built-in lid thermometer lets you easily monitor the temperature of your barbecue.
Tuck-Away lid holder: This lid holder lets you easily move your lid sideways to check your food or add charcoal.
Gourmet Barbecue System: ø 57 cm heavy-duty coated cooking grate. It is equipped with a special removable central area in the middle. This feature can be used for plain grilling, roasting poultry, pizza stone, etc. It is designed to allow you to easily add custom GBS (Gourmet Barbecue System) cooking attachments (all sold separately). Each option gives you endless opportunities to try new recipes.
The folding cooking grate has areas on both sides that allow you to easily add charcoal.
iGRILL Bracket: The iGRILL bracket provides a magnetic surface to place your iGRILL Mini or iGRILL 2 (each sold separately) while in use, plus storage for 4 probes. Remove the iGRILL bracket when not in use.
The curved arms of the cooking grate allow it to hang from the side of the pan.
Rust-resistant aluminum door slider on the contact cover. Door slide contact point dispenses flap from door damper for added comfort.
Durable all-season wheels.
Higher grill position thanks to longer legs and wheels.
2 pcs. Glass reinforced plastic handle, side handle has an integrated tool holder.
The One-Touch cleaning system and ashtray make emptying ash quick and simple.
Heavy duty steel grating.
Smoke settings: The new shape of the chamber vents provides the perfect amount of airflow for smoking and low temperature barbecues.
The fully enclosed high-capacity ash catcher prevents ash from being blown around and is easily separated for fast and clean ash removal.
Briquette measuring cup.
2 pcs. Charcoal and Briquette divider.
Spring clip/push pin leg assembly.
Size: 107 x 65 x 72 cm. (H) x (W) x (D)
Weight: 17 kg.
Limited 10-Year Warranty Program
Manufacturer: Weber
Model: 14701004
Important Note: Since the use of liquid and gel igniters, coals from the Far East, perforated briquette coals and wood may damage the product, the use of such products is not recommended.
It is recommended to protect it with a protective cover against the natural wear process.
Information
Shipping
We currently offer free shipping within Turjey on all orders over 2000TL.
Return & exchange
If you are not satisfied with your purchase you can return it to us within 14 days for an exchange or refund.
Assistance
Contact us on (+90) 555 88 65, or email us at info@scandinavian-interior.com